When The Laughter Is Gone From Your Relationship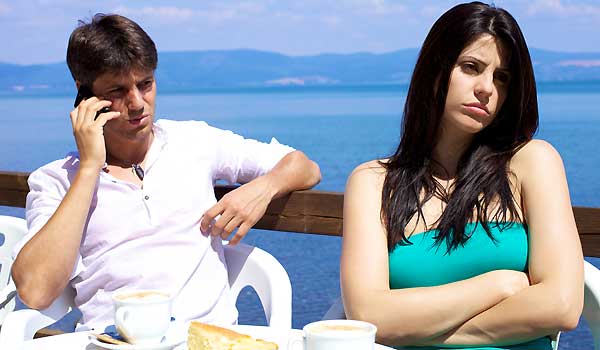 Sometimes you think about how much fun you had as a couple when you were dating and for the first few years after you got married. It was a period of discovery as you each explored the relationship and enjoyed life. Then the overtime started at work, the first baby arrived and staying ahead financially became more difficult. At some point the laughter and fun in the marriage stopped.
Marriage is not something to be endured. It is a relationship that is meant to be fulfilling as you share a life with someone you love. This sounds romantic, but it's true. Of course there will be times when you are angry with each other. Naturally there will be disagreement, stressful days and difficulties. But that should not be the only moments which define your marriage. If it is the chances are you are either enduring your marriage or thinking about divorce.
Bringing Memories Into the Present
It's wonderful to have great memories you share with your spouse. Thinking about those wonderful days full of anticipation and laughter should inspire you though to turn memories into your present. In other words, there should be laughter in your marriage right now and not just in your past. It's so easy to get bogged down in routines and responsibilities and forget all about the companionship you once enjoyed with your spouse.
When you let the laughter die in your marriage, your relationship is missing an important element. Though sharing difficult times or day to day responsibilities are necessary, there should also be equal moments of fun and caring. You don't have to spend a lot of money or plan extensive vacations in order to have fun. Chances are you didn't have a lot of money when you first got married and yet you had lots of fun together. That's because having fun is just as much about attitude as it is about what you are doing at the moment.
Treating Each Other With Intimate Kindness
There are plenty of spouses who complain their husband or wife is more considerate of friends. If you find yourself always seeking your fun with people outside the marriage, then chances are the laughter has been allowed to die in your relationship. So you turn to people that don't have as much relationship baggage liker you carry in your marriage. There are couples who never go out together alone, but always make sure other people are included. This means you never look to your spouse for those moments of fun and laughter that keep a relationship intimate, interesting and companionable.
Intimate kindness means doing nice things for each other so you keep the early love and passion you felt alive. You can have lots of fun with each other just by being nice to each other. There can be surprise romantic dinners at home or just inviting your husband or wife to take a long evening walk together. Of course you can also plan a vacation together at a romantic getaway or find a hobby you can share.
Laughing Together
Busy couples sometimes find themselves drifting apart because they have so many activities they do separately. There doesn't seem to be time to do anything together except for the obvious such as eating meals or visiting relatives. But the fact is that your calendar should contain appointments for fun and laughter together. If you can schedule a meeting, you can schedule time with your husband or wife to have some fun.
As your marriage matures and your responsibilities grow, making sure you keep some fun in your marriage may take planning. It may seem as if it can't be fun if you always have to plan your time together alone, but that is the wrong attitude. That is the kind of attitude which results in inertia. Instead you should make sure you always make laughter an important part of your marriage. Sometimes you simply need to treat your spouse just like you did when you were trying to impress him or her while dating or right after you got married.
Letting the laughter die in your marriage is a mistake. It leads to boredom, dissatisfaction and a disconnection that can damage the marriage. If you find yourself always thinking about laughter in the past then it's time to add some fun in your present.